Four seasons in one day
Posted by Sam Harrison on January 28, 2014 at 07:56.
fell running lake district langdale winter running
The title for this post came to me about half-way through my run in Langdale on Saturday, which unfortunately meant I had the chorus to Crowded House's song with the same name going around in my head for the remainder of the run. So, whilst it might be a slight exaggeration in meteorological terms, it's still somewhat apt.
Though, in honesty, it isn't much of an exaggeration! My initial plan to run the Langdale Horseshoe race route was soon abandoned after seeing the scale of flooding on the road into Langdale; I didn't fancy crossing Martcrag Moor with so much water about. Instead - and after quite some deliberation whilst sat in my car as to whether I should step outside at all - I decided to head straight up the valley towards Angle Tarn and "see what happened".
What happened was a lot more rain and severe buffeting to the extreme; I got blown off the track a number of times. I wasn't hopeful of getting much further than Angle Tarn, but things quietened down a little and by the time I started the ascent proper the rain had lulled and I was out of the wind. I used the opportunity to put another layer on (making for a total of two Merino wool tops, a wind shirt and a waterproof; it's not often you'll see me running with that much clothing on!) and change my sodden Thinsulate gloves for a pair of (supposedly) waterproof Primaloft mitts, all of which remainded on for the rest of the run.
I'd already experienced spring and autumn and it was now summer's turn; a glimpse of sun behind the clouds encouraged me that it was at least worth heading as far as Esk Hause. The break in the weather was still present when I reached Esk Hause, and the wind no worse than it had been down in the valley, so I decided to make the most of the effort I'd used to get up there and do some useful reccéing, namely of the traverse under Esk Pike that is used during the Langdale Horseshoe fell race. I picked it up no problem, and in fact it's quite a well trodden path for the main part.
Any sign of the sun had disappeared upon reaching Ore Gap (the col between Esk Pike and Bowfell), but it was still mostly dry and so I decided to carry on over Bowfell. A break in the clouds meant that I even managed a couple of photos on my phone upon reaching the summit of Bowfell, and this inspired me to pick up the racing line over Crinkle Crags (which traverses to the west of the standard path, before turning back east to come directly up onto the summit, missing out the ups and downs of the main ridge).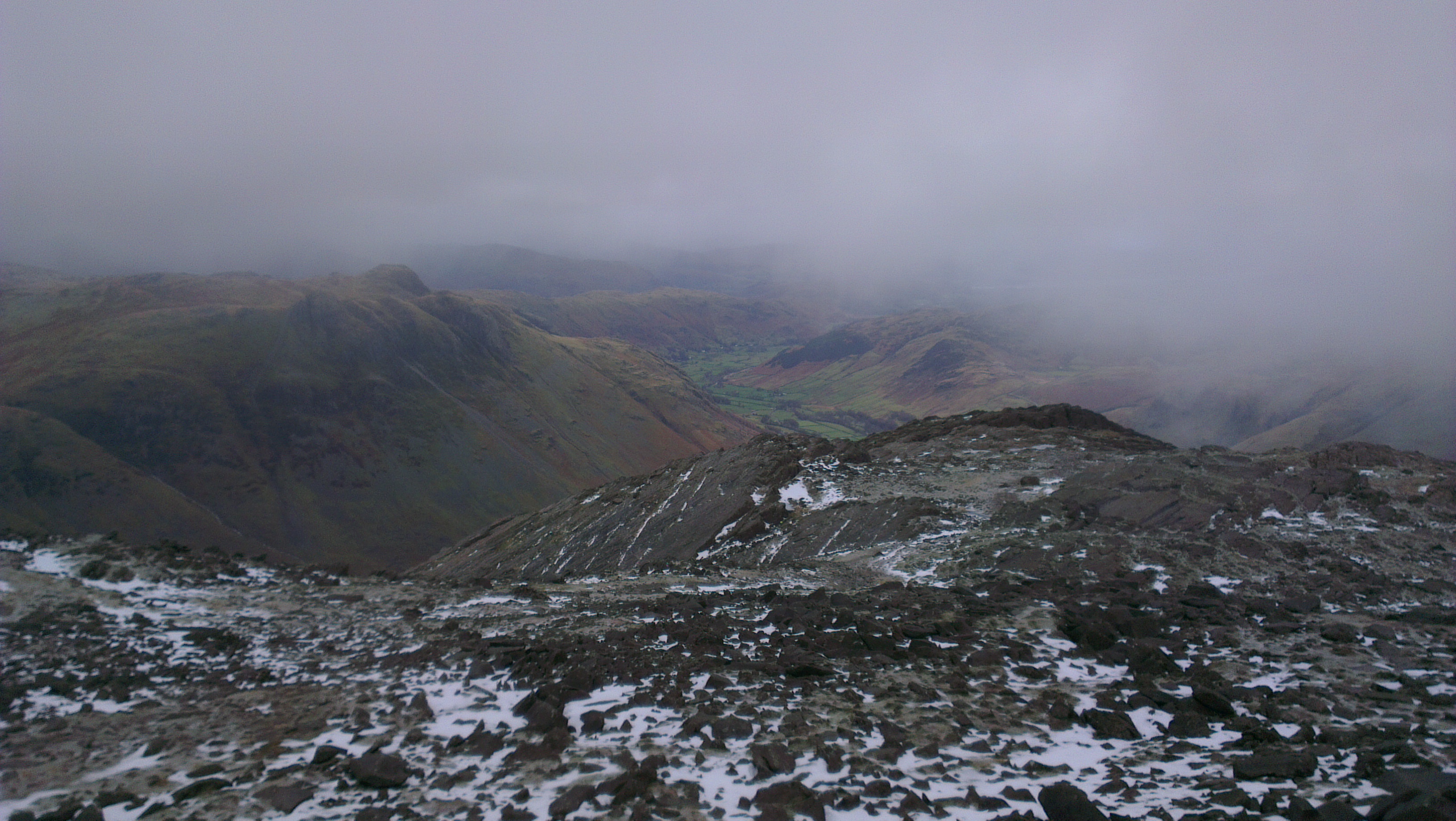 It was then winter's turn, which took the form of an almighty horizontal hail storm that even the most brutal of Scottish winter conditions would struggle to contend with. Ron Hill Tracksters aren't designed to deal with hail very well and for ten minutes I felt like I was being stabbed with hundreds of not-so-small needles. There was no way I was carrying on to Pike of Blisco after that, and so I made my descent back to the valley to finish my run three hours after I began.
I was using a new Inov-8 Race Pac 25 rucksack that I'd picked up from Pete Bland's that morning (at a bargain £35!) and my initial feelings about it are very positive. It was very comfortable to run with, despite being quite heavy (I had gear more akin to walking than fell running, including crampons, due to the weather), and the design of it seemed well thought out. Only time will tell how durable it is, and my only gripe at the moment is that there's nowhere to immediately attach an ice axe to (though fashioning an attachment point shouldn't be too difficult).